Amazon.com Inc. (AMZN) has had a favorable start to 2020, seeing significant gains in April in particular. Amazon outperformed the S&P 500 in 2020, and as of April 24, rose by approximately 30.4% in comparison to the S&P 500's loss of about 12.2%.
Amazon has felt the impact of the recent Coronavirus pandemic through hits to its supply chain but also increased demand from customers who require basic staples as well while they follow government advisories and mandates to stay at home. Investors anxiously await to hear final details of first quarter results, as a conference call for this e-commerce and technology company approaches on April 30, 2020.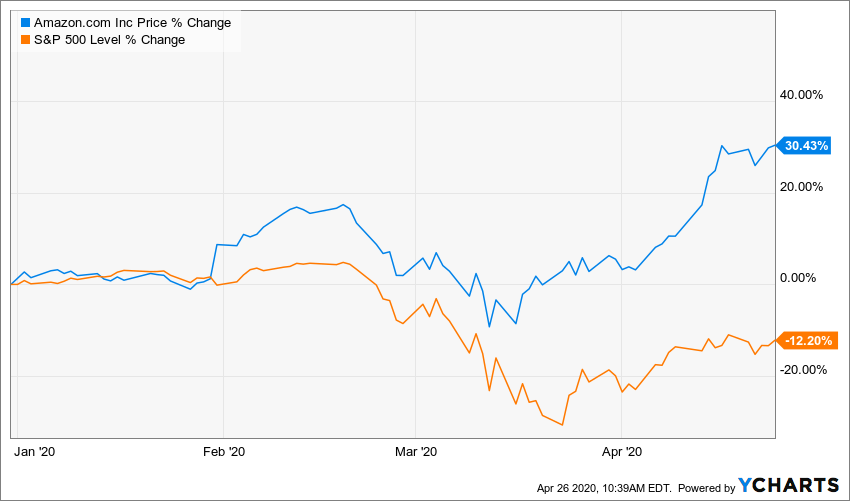 Rising on The Heatmap
Amazon rose on the WhaleWisdom Heatmap to 19 from 24, showing investors had a positive bias for the stock during the fourth quarter of 2019. Looking at the top hedge funds, 25 added to an existing position as 20 reduced their holdings, as 41 funds held the stock.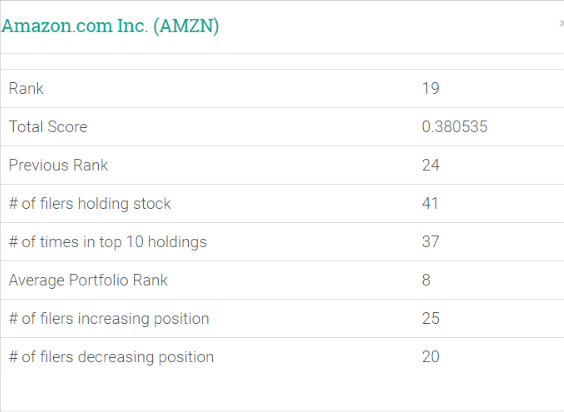 (WhaleWisdom)
Institutions Decrease Shares
While hedge funds increased their positions, institutions showed a slight decrease in the stock. The number of aggregate 13F shares decreased by approximately 1.2% as of December 31, 2019, to roughly 274.4 million from 277.6 million three months earlier. For comparison, hedge funds increased their total 13F shares by about 0.4%, up to 91.7 million from 91.3 million.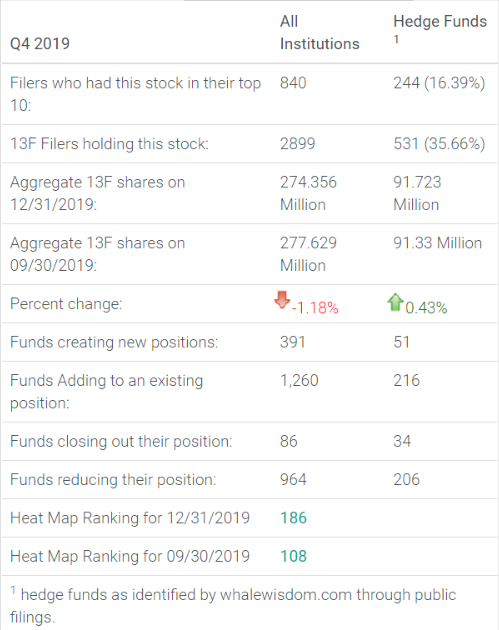 (WhaleWisdom)
Estimates Are Encouraging for Growth
Amazon's e-commerce business has experienced both a negative and positive side of the recent Coronavirus pandemic. While Amazon has seen a hit to their supply chain, they have also experienced an increase in demand from customers who require more basic staples as they follow stay-at-home government orders.
While estimates for earnings per share (EPS) is estimated to have declined by about 10% for the first quarter from a year ago, there is still a positive outlook. Quarterly forecast for EPS in 2020 shows a steady rise and are forecast to rise year-over-year by 24.6%.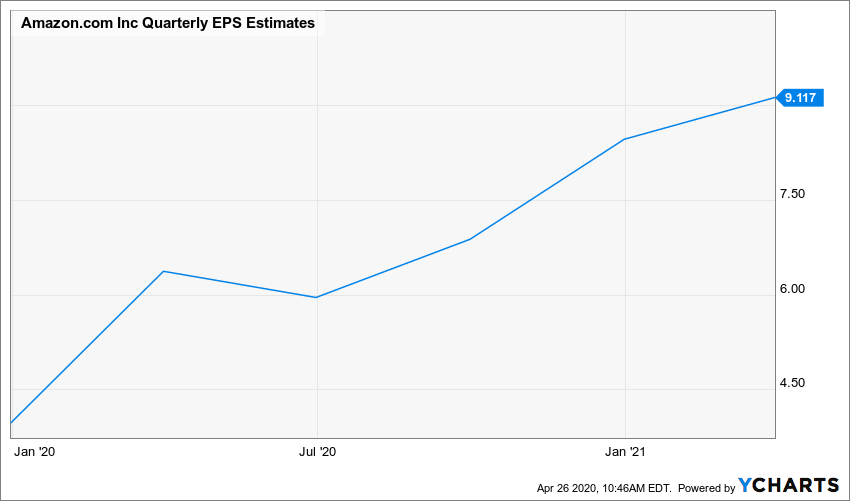 Analysts Forecast Growth
The upward trend for Amazon is likely to be long-term, based on earnings and revenue estimates. Still, analysts' perspectives vary. Jefferies Group LLC 's analyst, Brent Thill, raised Amazon's price target from $2,300 to $2,800. Meanwhile, Morgan Stanley acknowledged Amazon as a beneficiary of those working from home during the Coronavirus pandemic and noted in investors should lock in profits at about $2,400 with the stock trading around that price.
Favorable Outlook
While delays in their supply chain have understandably harmed Amazon, these are viewed as short-term and overshadowed by more recent customer trends of buying more from this e-commerce giant. Bullish investors and analysts are likely to stick with this stock.