Berkshire Hathaway Inc.'s latest 13F filing for the third quarter didn't reveal many surprises, except for one. The firm is run by legendary investor Warren Buffett, who is known for taking big stakes in companies like Apple Inc. (AAPL), Bank of America Corp. (BAC), and Coca-Cola Co. (KO). However, the latest filing reveals a new surprise showing the purchase of RH (RH).
RH is a distributor of products such as home furnishing, lighting, and bathware. The surprise filing by Berkshire sent RH's stock soaring by as much as 8% on November 15, when it was revealed that the investment firm had taken a stake.
Moving into RH
The investment was small, valued at about $205 million, ranking it at 41 by market value in Berkshire's portfolio, which holds 48 equity positions.  However, it does make Berkshire a top 10 shareholder in RH, with an ownership stake of greater than 6%.

Big Gains
RH's stock has risen by around 54% in 2019, more than double that of the S&P 500 gain of 24%. Still, the big gains of 2019 did not stop Berkshire from throwing its hat into the ring and getting involved with the company. It has been a volatile year for RH, with the stock plunging by over 25% through May, followed by a rapid rise starting in June.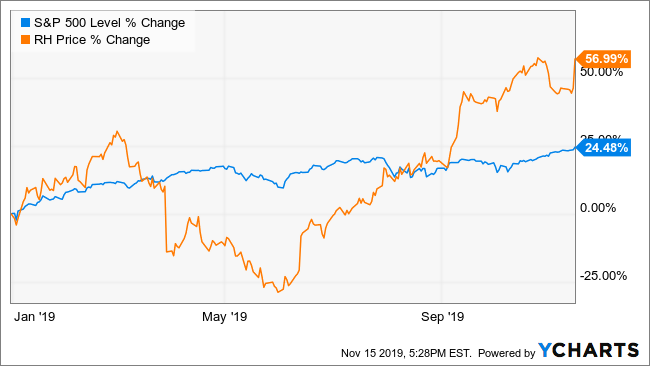 Big Growth Ahead?
Analysts are projecting big growth for RH through fiscal 2022, with earnings climbing to $13.74 per share. That is an increase of more than 61% from RH's fiscal 2019 earnings of $8.54 per share. It comes to a compound annual earnings growth rate of 17.2% and it leaves the stock trading at roughly 15.4 times fiscal 2021 earnings estimates of $12.33 per share. When adjusting the equity for its compound annual growth rate, it gives the stock a PEG ratio of less than one at 0.89. This could suggest that the stock is cheap.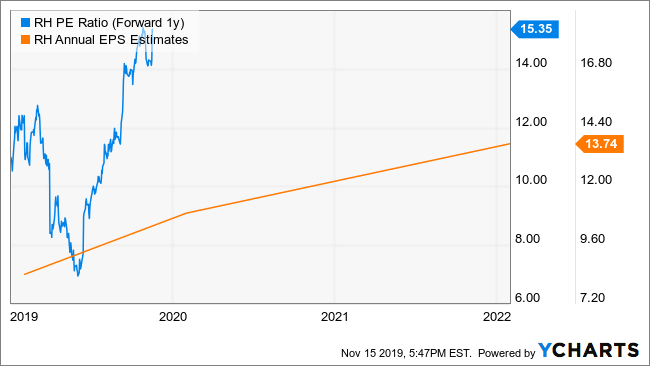 The stock's valuation and prospects for future earnings growth, could have been one of the main drivers for Berkshire's purchase of RH, despite the stock already having a big push higher in the third quarter of 2019.
It isn't clear if Berkshire is finished buying RH or has plans to acquire more of the stock. It will make watching for future filings all the more important. However, it seems entirely possible that watching the performance of the stock may yield an underlying clue.