Broadcom Inc. (AVGO) has had an active 2019 with the shares surging by over 24%, keeping pace with the S&P 500, which has gained by over 25%. The stock is currently sitting near its all-time highs and could be heading higher as it continues to transform away from being a solely low margin semiconductor business into one with higher-margin software applications.
The strong performance has resulted in the stock's addition to the WhaleWisdom WhaleIndex 100 on November 15. Additionally, the shares have been on the WhaleWisdom Heatmap for two quarters in a row. The heatmap evaluates the portfolios of the top 150 hedge funds using the Whalescore calculation.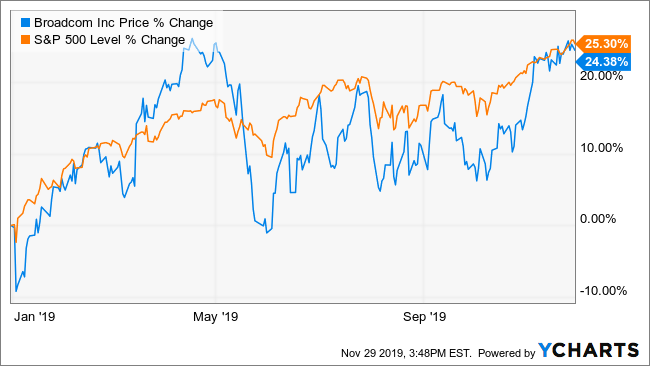 Investors Are Staying Optimistic
Broadcom's ranking on the Heatmap fell to 98 in the third quarter from 45 in the second quarter. The reason for the decline in the ranking is likely because the number of top hedge funds in the third quarter increasing their holdings were 11, versus nine that were decreasing their positions. However, 19 funds held the stock in their portfolio, while 2 had the shares as top-10 holding, a strong showing.
Overall, the aggregate number of 13F shares fell by approximately 2.5% in the third quarter to roughly 329 million shares. During the most recent quarter, 515 institutions added to their positions, while  444 decreased their holdings. In total, 95 firms established new stakes and 90 closed their positions out.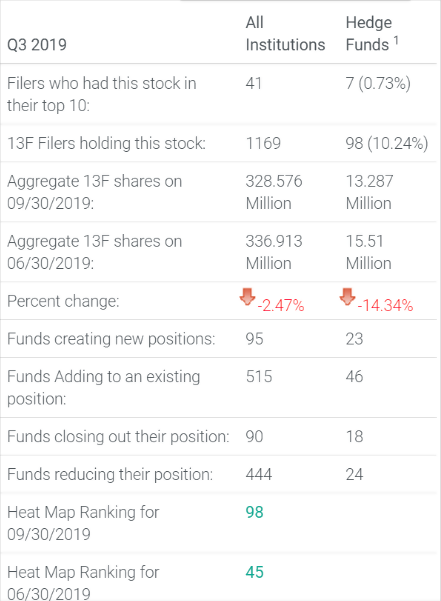 (WhaleWisdom)
Earnings Are Coming
The company is expected to report fiscal fourth quarter 2019 results on December 12. The results tend to be widely followed by investors, as those results tend to give investors an intra-quarter peek into how other semiconductor businesses may be performing. It is not expected to be a strong quarter for the company, with earnings estimated to have declined by more than 8% to $5.36 per share, while revenue is forecast to have climbed by 6% to almost $5.8 billion.
Valuation Is Reasonable
Still, the company trades with a reasonable valuation at just 12 times 2021 earnings estimates of $26.02. That isn't bad for a company with forecasts to see earnings rebound in 2020 by 10% to $21.28 per share, and by an additional 10% in 2021 to $26.02.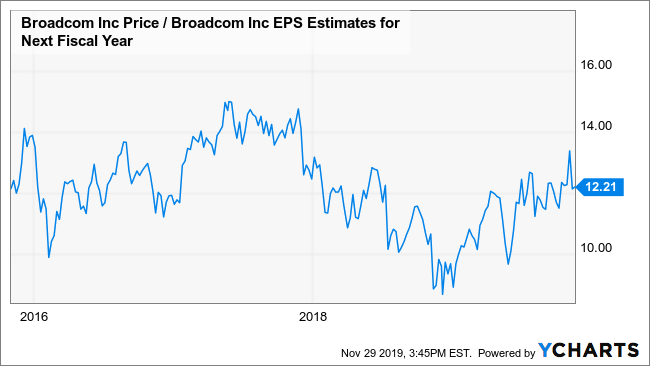 Despite the stock's significant advance in 2019, the shares are still trading at the low to mid-range of its PE ratio. Since 2015, the PE ratio has traded in a range of 10 to 15. It could be one reason why investors are betting so heavily on Broadcom's stock, and why the stock may continue to rise over the longer-term.