Microsoft Corp. (MSFT) has been one of the hottest stocks in the market during 2019, rising by more than 36%. That is 16 percentage points higher than the S&P 500 return of 20%. The strong stock returns have been driven by the company's healthy cloud and software as a service product and are likely one reason why investors have been flocking into the stock.
WhaleWisdom compiled data across 49 of the most well-known and followed Hedge Funds. Of those, WhaleWisdom found that 16% or 8 funds owned the stock at the end of the first quarter.
The Smartest Funds
Some of the most well-known and smartest hedge funds have piled into Microsoft's stock, and in some cases own significant amounts of it. For example, TCI Fund Management Ltd. has over 13% of its portfolio invested in Microsoft, while Tiger Global Management, Joho Capital LLC, and Hound Partners LLC have allocated about 8% of their respective portfolios. These investments are followed by Viking Global Investors, Coatue Management LLC, and Maverick Capital, with each investing between 5% to 6% of their portfolio in the company.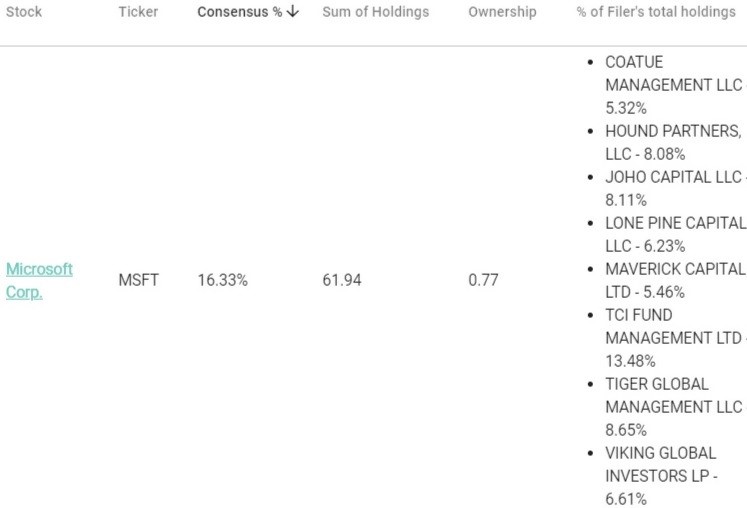 The Rest Were Wrongly Dumping
Interestingly, overall hedge funds were selling their shares of Microsoft, with the total number of 13F shares falling by almost 5% to 343 million from 360 million. During the last quarter, 23 funds created new positions, while 111 funds added to existing holdings. Meanwhile, 28 funds closed out their holdings and 148 reduced their positions.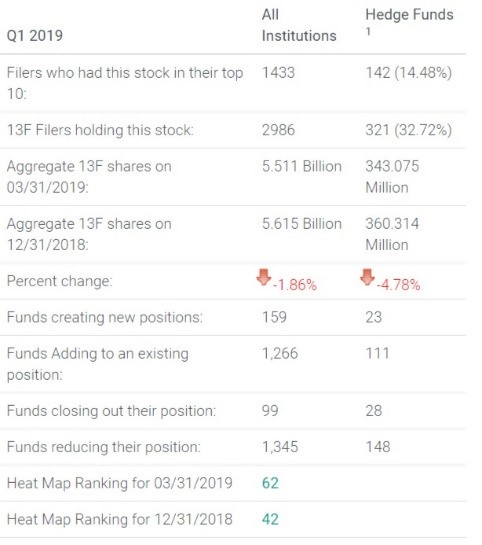 Fiscal Fourth Quarter Results
The company is scheduled to report quarterly results on July 18. Analysts are forecasting fiscal fourth quarter revenue to rise by 9% to $32.8 billion, while earnings are expected to have climbed by 7% to $1.21 per share. Meanwhile, analysts are expecting the company to guide first quarter revenue to $32.06 billion, and earnings to $1.19 per share.
More important may be what the company says about the growth of its cloud computing business units, which have had a blistering growth rate in the past. For example, in the fiscal third quarter, Intelligent Cloud revenue increased by 22%. Microsoft's cloud business has become one of the chief rivals of Amazon.com Inc.'s (AMZN) Web Services business unit.
Cheap Compared to Peers
Microsoft is currently trading at 22.7 times fiscal 2021 earnings estimates of $5.87 per share, which comes at a reasonable valuation when compared to many of its technology peers. For example, the average PE ratio of the top 25 holdings in the Technology Select Sector SPDR ETF (XLK) is about 22.5 times one-year forward earnings estimates. However, stocks such as Intuit Inc. (INTU) and Adobe Inc. (ADBE) trade at over 30 times earnings estimates.
When looking at Microsoft on a peer analysis basis, it's no wonder why some of the most well-known hedge funds have been piling into and holding shares of Microsoft in the most recent quarter, and despite Microsoft's sharp rise, the stock may still be cheap with the potential for further upside.