JD.com, Inc. (JD) has seen a reasonably upward trend in performance over the past six months, seemingly riding out the storm that the global coronavirus pandemic has brought upon the stock market. The China-based online direct sales company reported better than expected results on May 23, 2020, and now leads the S&P 500 with a staggering gain of approximately 41.6% versus a decline of 8.5%.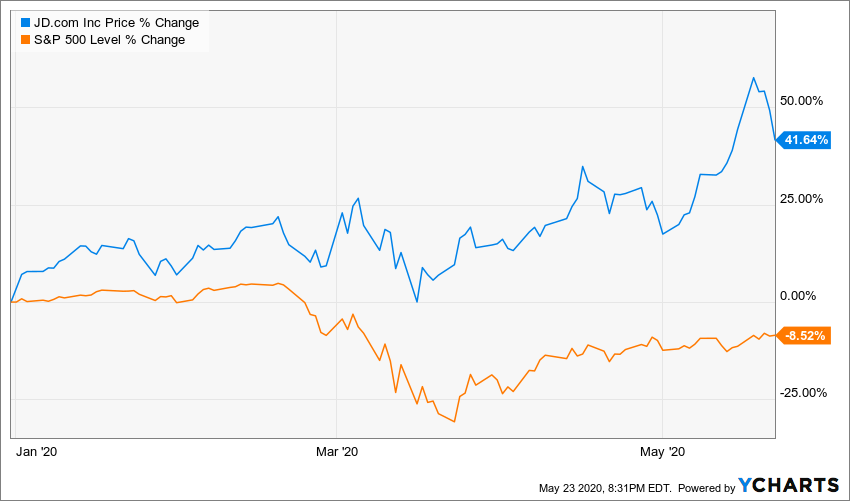 Strong Results Despite Global Tensions
JD had an impressive rise in the WhaleWisdom Heatmap in the first quarter, with a ranking at one. Despite JD's forward movement and growth in this challenging stock market, JD's ties to China leave it partially influenced by the recent rising U.S.-China tensions related to the pandemic. While arguments over blame for the coronavirus have not had a significant impact on Wall Street, the debate and tension have nevertheless hung over the market and remains a concern for some investors.
Still, JD's strong ranking and position on the WhaleWisdom Heatmap may be a reason for hope for the stock's future.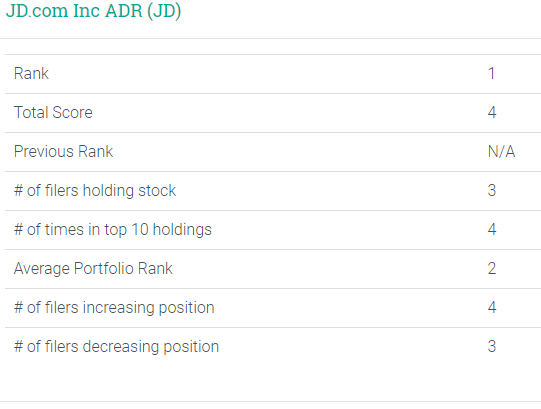 Institutions Are Buying
Institutions overall were buying the stock, with the number of aggregate 13F shares increasing by approximately 12.4% as of March 31, 2020, to roughly 284.2 million from about 253 million just three months earlier. For comparison, hedge funds increased their total 13F shares by about 2.9%, up to 613.7 million from 596.3 million.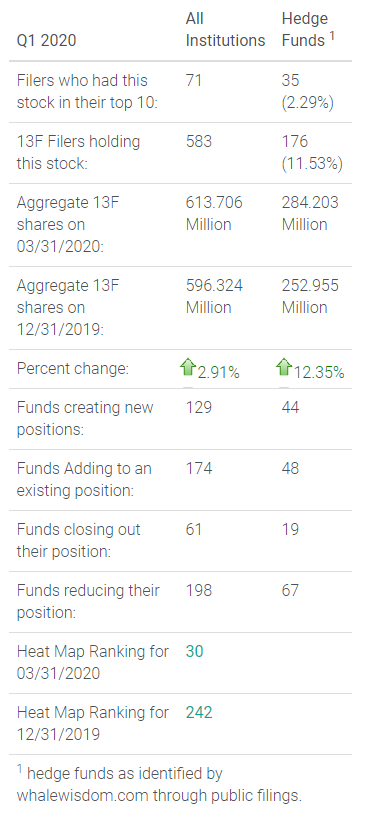 Analysts' Forecast Are Favorable
AllianceBernstein Holding LP increased JD's price target to $60 from $55. However, Bernstein is not the only one with faith that the stock will go higher, as many Wall Street analysts are bullish on the stock. Overall, 30 analysts cover the stock with an average price target of $58.08, or 16.4% higher than the equity's price on May 22.
Currently, analysts estimate second-quarter earnings per share of about $0.35, an increase of 8% versus a year ago. Meanwhile, analysts forecast revenue of about $26.6 billion, an increase in year over year growth of approximately 24.8%. JD has seen active customer accounts rise, with a significant increase in daily monthly mobile users in March, up about 46% year-over-year.
Sustained Growth
JD has been fortunate to see benefits from coronavirus-related demand for online shopping. While JD is not cheap on a PE basis, and political tensions between the US and China remain, there is potential for sustained growth for the company. JD's stock may still garner the attention of investors due to the longer-term potential for payoff.