The Kroger Co. (KR) experienced its ups and downs in 2019 and early 2020. Still, its overall performance displayed a rise in value, and the fourth quarter was especially promising with Warren Buffett, Chief Executive Officer of Berkshire Hathaway, Inc., and renowned investor, starting a position.  Kroger retails groceries, fuel centers, and jewelry stores throughout the United States.  Kroger also manufactures and processes some of the food sold in its supermarkets.
Performance Has Outpaced the S&P 500
Kroger has performed better than the S&P 500 over the past year, with its value increasing by approximately 24.1% as of March 13, 2020, in stark comparison to the S&P 500's decrease of 3.5%.  Hedge funds have demonstrated faith in the stock and were buying shares during the fourth quarter as well.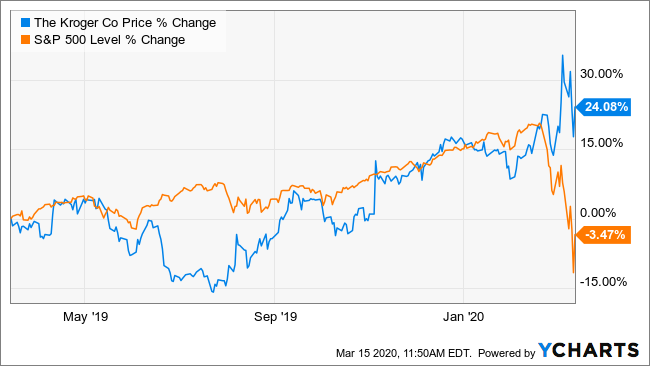 Kroger Added to Berkshire's Portfolio
Warren Buffett has shown a strong interest in Kroger by not only adding it as a new holding but also by being one of the top holders of the company's stock.  During the fourth quarter, Buffett bought 18.9 million shares of the shares, a market value of $550 million.  It puts his firm among the top 10 holders of the stock.

(WhaleWisdom)
Hedge Funds Are Buying
Hedge Funds were also buying the stock, with the number of aggregate 13F shares increasing by approximately 3.4%, to roughly 229.5 million shares from 221.9 million shares as of December 31, 2019.   Looking at the top hedge funds, 21 created new positions, 35 added to an existing position, and 59 reduced their holdings, as 20 exited.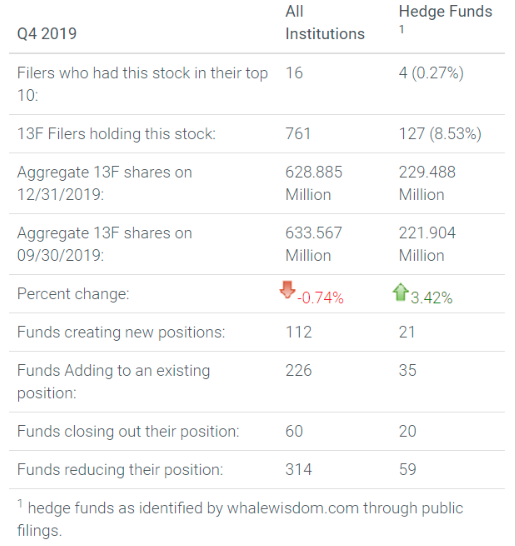 (WhaleWisdom)
Continued Growth Is Anticipated
Kroger is not an expensive stock and trades with a price to earnings ratio of 12 based on fiscal 2022 earnings estimates.  Sales are expected to grow by approximately 2.0% in both 2020 and 2021, while earnings are predicted to grow to $2.36 per share in 2020 and $2.46 per share in 2021.  Projections continue upward for 2022, with sales growth estimated at 2.2% and earnings estimated to climb to $2.57 per share.
Steady Momentum Attracts Investors
While sales growth estimates are modest, the stock keeps moving in the right direction.  Kroger is one of the United States' largest grocery chains, and bullish investors see a real potential for payoff.  Understandably, hedge funds have held and added to positions, as the stock has outpaced the S&P 500 and garnered the attention of some well-known investors.  Then factor in recent peaks in consumer demand related to U.S. pandemic concerns, and you have an even higher likelihood of sales growth and happy investors.