Netflix, Inc.'s (NFLX) stock has performed reasonably well during this recent period of market volatility, falling by just 14.2% from its highs, versus the S&P 500's fall of almost 32%.  Over the past year, Netflix's value has decreased by approximately 12% in comparison to the S&P 500's loss of 19.2%.
Netflix is an American streaming media service provider and production company with domestic and international segments.  The company has had continued success due to its ability to adapt to customer needs and shift its business model.  It's not surprising that the stock is ranked at six on the WhaleWisdom Heatmap.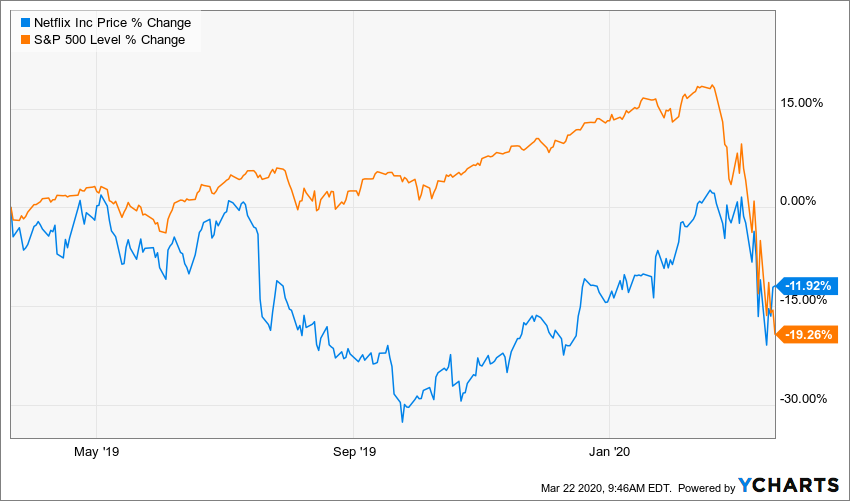 Positive Movement
Netflix moved to six on the WhaleWisdom Heatmap v2.0, up from 35 during the fourth quarter of 2019.  While 15 filers have decreased their positions, 16 filers have increased their holdings, and the stock has landed in the top ten holdings among these top hedge funds 18 times.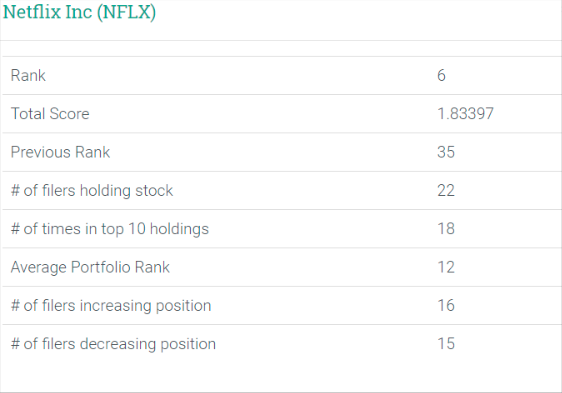 (WhaleWisdom)
Hedge Funds Maintain Interest
While aggregate 13F shares decreased slightly in the fourth quarter of 2019, interest remained and helped it to climb to a position of 37 from 135 on the original WhaleWisdom Heatmap.  During that quarter, the aggregate 13F shares held by hedge funds increased to approximately 121.1 million from 117.7 million, about a 2.9% increase.  The institutional activity was not quite as favorable, seeing a decrease of about 0.1%, with the aggregate 13F shares held decreasing to approximately 353.4 million from 353.7 million.  Looking at hedge fund activity, 47 created new positions, 83 added to existing ones, 34 exited, and 124 reduced their holdings.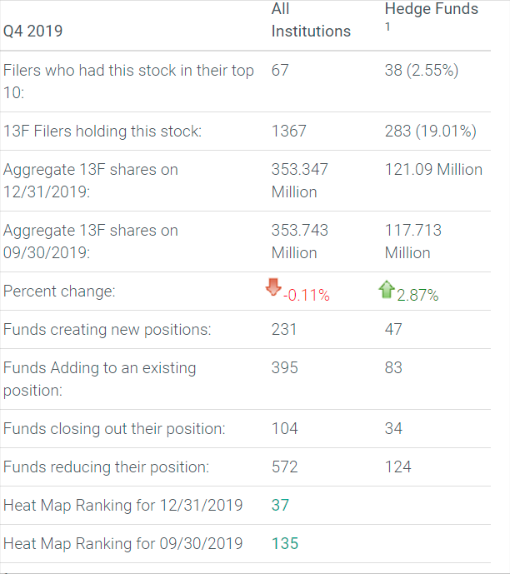 (WhaleWisdom)
Promising Predictions
Analysts' estimates are encouraging, with sales predicted to grow about approximately 20.9% in 2020 and by 18.6% in 2021.  Meanwhile, earnings are forecast to grow by 45.4% to $6.00 in 2020 and 39.9% in 2021 to $8.40.
Analysts See a Silver Lining
In addition to positive outlooks for the current and coming year, analysts also see a silver lining to business and market disruptions caused by the current global Coronavirus pandemic.  Analyst Justin Patterson, of Raymond James Financial, is one of the optimists.  The analyst notes that as customers stay home amid virus risk, they're looking to companies like Netflix for online entertainment.  The considerable increase in usage may cause service disruption, but Patterson views temporary disruptions as manageable, while lengthy interruptions could prove problematic to Netflix's value.
Favorable Outlook
There's optimism for sales growth estimates, and in general, the stock has been moving in the right direction.  Netflix is a global streaming media powerhouse, and, understandably, there's been a mixed movement in hedge funds' positions given the overall market volatility amid the Coronavirus pandemic.  However, what is worth repeating is that Netflix has the potential for some benefit from the effects of the pandemic and, more importantly, has performed relatively well during a time of market volatility.