Nvidia Corp. (NVDA) has faced a rocky path during its upward climb, and while March was an especially challenging month for its stock, fortunately, performance improved as of mid-May. The stock has risen approximately 44.3% in comparison to the S&P 500's loss of about 12% so far this year.
After over a year in the making, Nvidia recently finalized its $6.9 billion acquisition of Mellanox Technologies, Ltd., after receiving approval from China's antitrust authority. While China's approval comes with certain conditions, they appear reasonable and should not hinder the success of the deal. The acquisition should bring great potential for growth. So it is understandable that the purchase would have a favorable impact on the chipmaker, even in a time of economic stress for the overall market from the Coronavirus pandemic.
Nvidia is expected to report results on May 21, with investors anxiously awaiting the earnings forecast.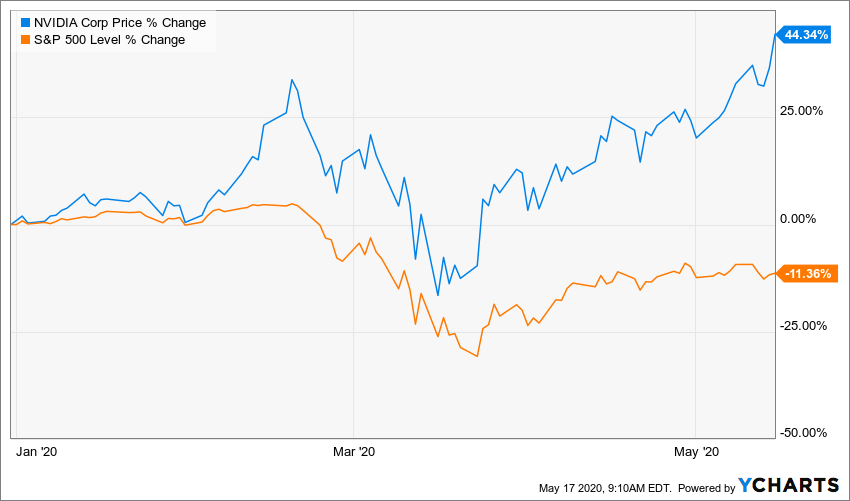 Institutions Are Buying
Institutions overall are buying the stock, though with a conservative stance as the number of aggregate 13F shares increased by approximately 0.5% as of December 31, 2019, to roughly 399.8 million from 397.9 million three months earlier. For comparison, hedge funds increased their total 13F shares by about 1.4%, up to 151.1 million from approximately 149 million.
Nvidia's WhaleWhisdom Heatmap rating shot up to an impressive 42 on December 31, up from a previous ranking of 89 three months earlier. Also, as of May 15, Nvidia's stock was trading at a record high.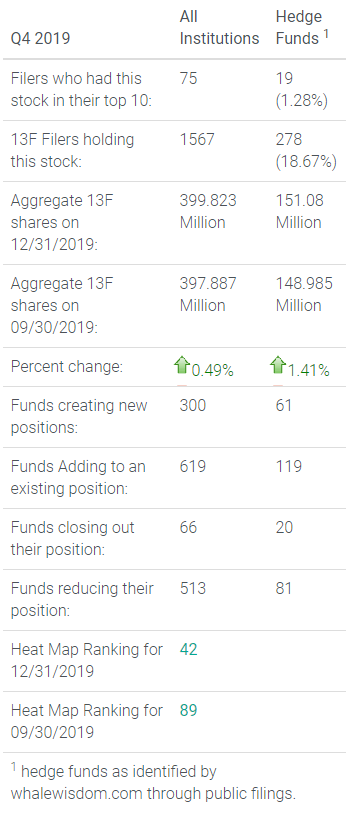 Estimates Reflect A Positive Outlook
Growth estimates for Nvidia are strong. Analysts estimate fiscal first quarter 2021 earnings per share of about $1.68 with an impressive increase and year over year growth of approximately 90.8%. Meanwhile, revenue is forecast to have increased by 34.8%to $2.99 billion. Jefferies Group, LLC., recently highlighted Nvidia as a core holding. In addition to favorable words from Jefferies, Needham & Co., recently raised Nvidia's price target to $360, predicting further upside.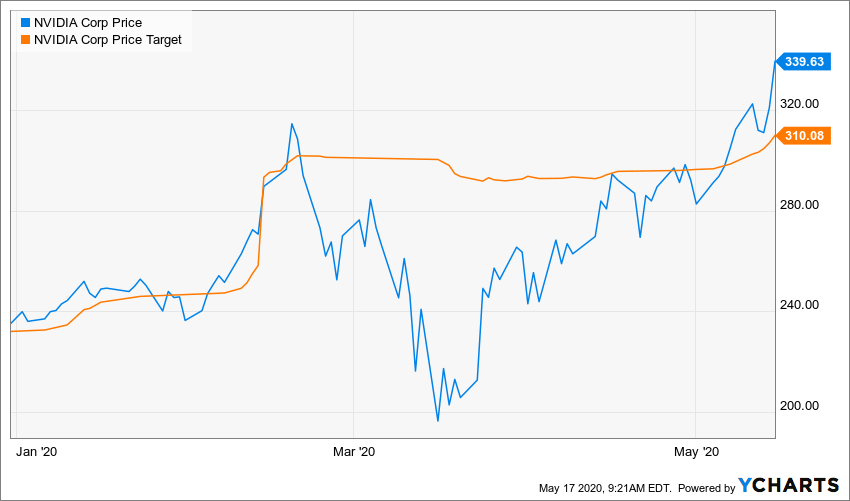 Strong Performance in an Uncertain Market
Nvidia's strong 2020 performance to-date has come at a time when the S&P 500 has suffered considerable drops related to the global Coronavirus pandemic. While Nvidia, like other technology stocks, hasn't been untouched by Coronavirus related sell-offs, they've benefited from the application of their GPU technology during this time, as well as the acquisition of Mellanox. It likely bodes well for the stock and a strong reason why the shares are held favorably by some of the top institutions and hedge funds.