Nvidia Corp.'s (NVDA) stock had a significant rebound over the past year, rising by approximately 70% in comparison to the S&P 500's gain of about 22.9%.  Nvidia is known for its innovation in artificial intelligence breakthroughs, gaming, and the datacenter.  Its leadership in these vital areas has helped to make the stock a darling among investors in recent years and has resulted in the shares soaring. Now, investors eagerly await the company's fiscal fourth quarter results on February 13, 2020.
Despite Nvidia's impressive gain over the past year, its status on the WhaleWisdom heatmap fell in the third quarter.  Hedge funds and institutions did not see eye to eye on the stock, as institutions increased their holdings in the company during the third quarter while hedge funds decreased their positions.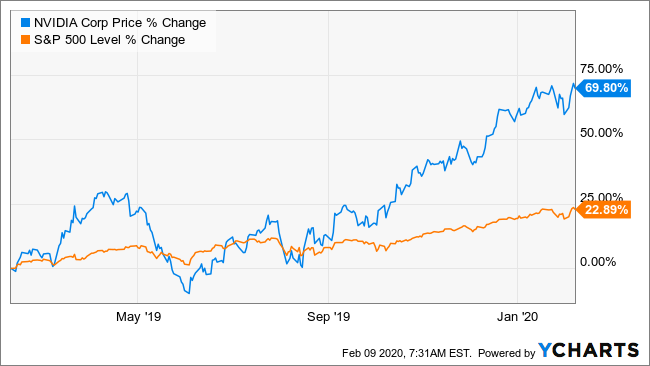 Heatmap Rating Drop
Nvidia had a disappointing drop on the WhaleWisdom Heatmap in the third quarter, its rating moving from 89 to 43 in the second quarter.  Overall, hedge funds decreased their aggregate 13F share count in the third quarter to 18.8 million from 19.5 million, a drop of about 3.5%.  Of 108 hedge funds, 25 created new positions, 35 added to existing holdings, 19 exited, and 39 reduced their positions.  Meanwhile, institutions increased their aggregate 13F holdings by approximately 0.7%, to 394.6 billion from 391.9 billion.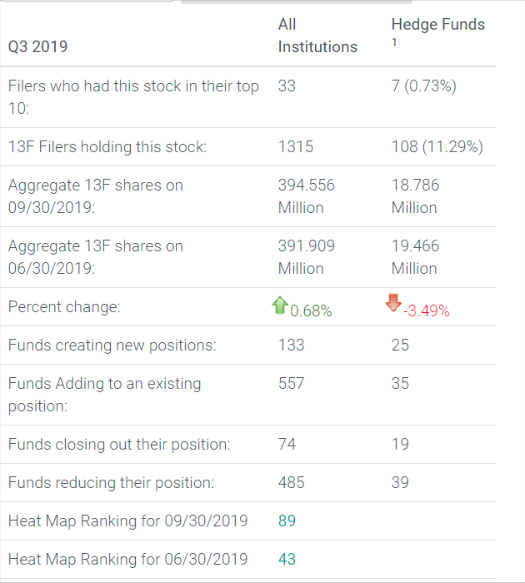 Estimates Are Encouraging
Analysts' consensus earnings estimates forecast earnings to have more than doubled in the fiscal fourth quarter to $1.67 per share. Meanwhile, revenue is estimated to have rebounded by 35.1% to $2.98 billion. Analysts see earnings rising by about 31% in fiscal 2021 to $7.24 per share and revenue to increase by 19.5% to $12.9 billion.
Should History Repeat
Nvidia has a history of beating earnings and revenue expectations.  Nvidia has surpassed expectations for earnings per share in seven of the last eight fiscal quarters and realized better revenue in six out of the last eight quarters.  This history should offer some practical comfort to investors.

 Must Maintain Momentum
With opportunities for growth in various industries and a history of beating analysts' expectations, the stock once again has investors' attention.  While Nvidia's stock is not cheap based on a price-to-earnings ratio, there is a good potential that if they provide a healthy outlook, then there is a perfect chance the stock will continue to rise and bring more hedge funds back into the shares.