Taiwan Semiconductor Manufacturing Co. Ltd.'s (TSM) stock has outperformed the S&P 500 by a wide margin over the past year  Taiwan Semi has risen by approximately 63% during this period, an impressive gain when compared to the S&P 500's increase of around 27%.
Taiwan Semi's fourth quarter net profit beat estimates at $3.9 billion, with a healthy outlook, driven by the strong consumer demand for high-end smartphones and the fifth generation of wireless technology known as 5G ramping up.  For the quarter ending in March 2020, revenue is forecast to reach approximately $10.2 Billion, up from the prior year's 7.1 Billion.
Placement into the WhaleWisdom 100
Given Taiwan Semi's impressive performance, it's no surprise that investors started buying the stock in the third quarter.  This resulted in the equity being added to the WhaleWisdom WhaleIndex 100 index in the middle of November and is a sign that investors recognize the opportunities that Taiwan Semi presents.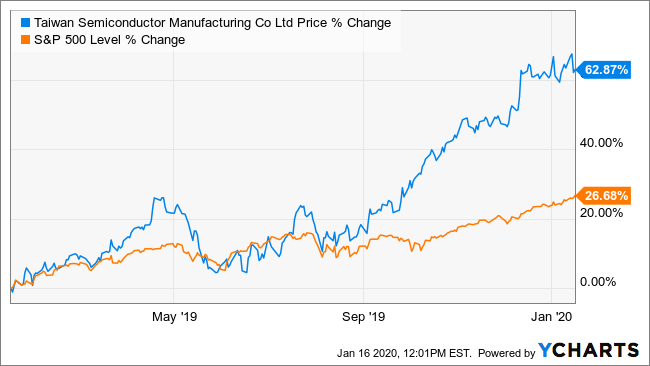 Hedge Funds Acquire More
At the end of the third quarter, 77 hedge funds held the stock, with 11 holding the shares among their top ten.  The number of 13F shares rose as 15 hedge funds created new positions and eight funds reduced their holdings. Meanwhile, 30 funds added to their positions while 26 reduced them.  Overall, the aggregate 13F shares held by hedge funds increased by approximately 6.5% to 159 million shares from 149 million shares in the prior quarter.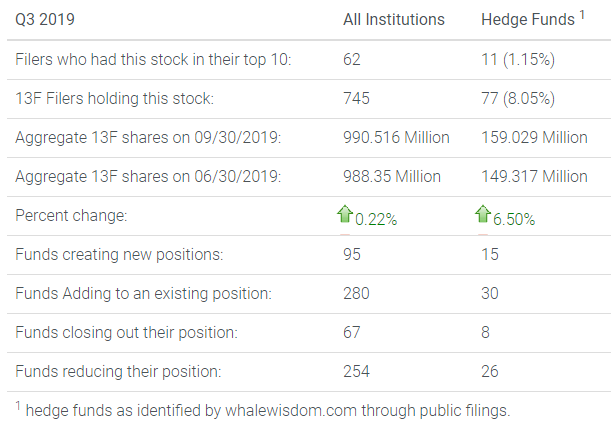 Earnings and Revenue Growth Continue
One reason why investors may be looking to get involved in Taiwan Semi is an upward trend in revenue and earnings growth. Currently, analysts' estimate earnings growth of 20.3% in 2020 to $2.87 per share and revenue growth of 20% to $42.9 billion.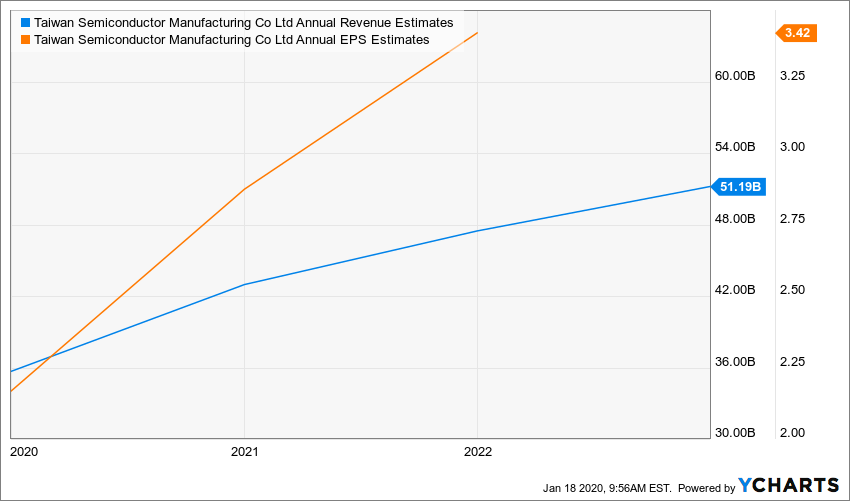 Despite strong earnings and revenue growth, the stock isn't cheap on a historical basis, trading for roughly 18.5 times one-year forward earnings estimates, its highest valuation since 2016.  Over that time, the stock has historically traded in a range of 9 to 15. However, if the earnings and revenue growth persist, when adjusting that earnings multiple for growth, the shares appear to be a bargain, trading with a growth adjusted PEG ratio of less than 1 and making shares cheap. However, it also means that for the stock to maintain that upward momentum, the company will need to continue to deliver impressive growth, perhaps even at an accelerating pace to keep the stock price moving higher in the future.